6 Benefits to Using Disposable Car Seat Covers
With several ways to protect vehicles, a car owner never thinks of it first, but a disposable car seat cover can make a difference to a car's interior. They may be simple to attach and easy to get, but their distinctly practical use ensures your car interior's pristine appearance lasts longer.
At PinPak, we have long recognized the potential these disposable plastic covers have, and provide our customers with 100% recyclable but heavy duty LDPE covers. But why do you need to use a disposable car seat cover anyway? And what are its advantages? Well, here's a rundown of just some of its benefits.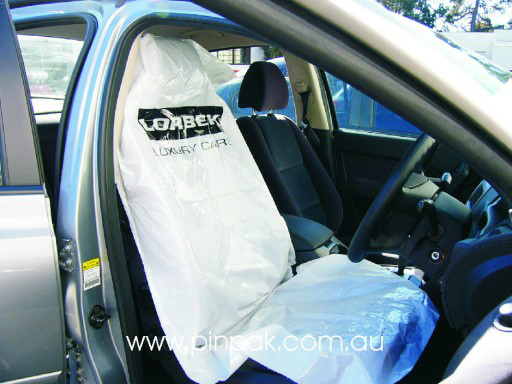 What Is LDPE Plastic?
Arguably the most popular form of plastic worldwide, LDPE (or Low Density Polyethylene) is:
Strong and durable.
Often used for strong moulded plastic items like garden slides and computer disk drives.
Likewise, it's manufactured in 'soft' items like cling film, plastic wraps and disposable items, like a disposable car seat cover.
This means almost every plastic you pick up is made from LDPE plastic. Its popularity in practical terms and the fact it is highly recyclable makes it a preference amongst packing firms and manufacturers. In 2009, the global LDPE market was estimated to be worth over US$22 billion.
The 6 Biggest Benefits
1. Guards Against Wear And Tear
A disposable car seat cover protects your car's upholstery. With all the movement involved in getting in and out of a car seat, your seat's wear and tear can become extensive over time. That means threads are worn down, which increases chances of tearing.
2. Keep Upholstery Clean
Opting for plastic disposable covers means your car seat is protected from everyday dirt, grease and spills. This means:
Upholstery is kept clean
The need for shampoos and fresheners reduces
What is more, these plastic covers are a fraction of cleaning product costs.
3. Tight Fit On The Right Seat
Disposable car seat covers are not simply plastic bags you put over your car seat; they are specifically contoured to fit seats. This is to:
Ensure they stay in place while used
Maximize comfort
For example, drivers do not want to slide around on a plastic surface while controlling their car. However, such precision designing means the size and design of your car seat is essential. You can get 'one-size-fits-all' covers but first, check your vehicle's seat dimensions.
4. Protect During Servicing
You have probably experienced the frustration of having your car serviced only to find oil and grease stains on your seats when you get the car back. Disposable car seat covers are:
Inexpensive
Easy to attach and remove
Guards against staining risks
When you bring your car to a garage:
Simply put the cover on
Remove it when you get it back
5. Strong Plastic Material
Most suspect that inexpensive plastic disposable covers are flimsily made. This is not necessarily true. Most protective covers are made of heavy duty LDPE that will:
Not rip easily
Provide good resistance against hot liquids and drinks
6. Marketing Opportunity
Finally, a plastic disposable car seat cover provides an excellent opportunity to market your own business. We can:
Print your company logo on the seat cover
Provide an attractive finishing touch to your company car's interior – perhaps one to complement a painted logo on your car's exterior
The Pinpak Range
At Pinpak, we supply some of the best quality and affordable car seat covers available in Australia. Our polyethylene covers are manufactured from heavy duty 100% recyclable LDPE, making them a durable and environmentally friendly choice.
And because our disposable car seat covers are sold in handy and easily storable rolls of 250, you can be sure your supply will:
Last a considerable time
Make your investment cost-effective one
For more on what we can do for you, and the options available, you can check out our website, email us at sales@pinpak.com.au or call us on (03) 9897 4000. We'll be glad to fill you in.